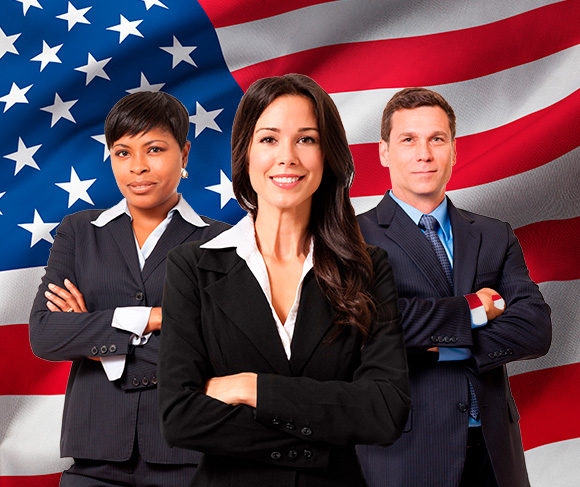 USA Visa Consultant (USAVisaConsultant.com) is a private company that helps to make US immigration fast and affordable for thousands of clients around the world. We are not, however, associated with the United States government or any governmental agency which issues US visas. Rather, USA Visa Consultant is a team of US immigration professionals that provides a valuable service to clients who want to live and work in the United States, but do not know if they qualify for an employment-based permanent resident Green Card or a temporary work visa to the USA, and who seek expert assistance to simplify the procedure.
Our group of consultants has the required knowledge and many years of experience necessary to evaluate your eligibility for relocation to the United States and to guide you in applying for your best US visa option. We also offer a variety of beneficial services at an affordable price to help make moving to America as easy as possible for you and your family. More than one-million individuals relocate to the USA for a better future each year through dozens of short-term non-immigrant and long-term US immigration programs. Our company has helped thousands of clients to successfully navigate this complex process and we are ready to give you this same opportunity to move to America.
Our Services
USA Visa Consultant is dedicated to finding the best pathway for you to live and work in the United States. This starts with a personalized US visa assessment, based on a review of your details by our team of experienced professionals, to check your eligibility to apply for a temporary US work visa and/or an employment-based permanent resident Green Card. There are several non-immigrant US work visa programs to live and work in the United States short-term (e.g., for up to 12 months or as long as 60 months). Additionally, five employment-based US immigration programs grant Lawful Permanent Resident (LPR) status to live and work in the USA with a Green Card long-term and receive many great benefits, including the opportunity to apply for American citizenship. Other options may also be available for relocation to the United States. Each of these US visa programs has its own complicated eligibility criteria and application procedures. Therefore, USA Visa Consultant has developed a US immigration profile assessment application that is easy for you to complete online and will allow our team of consultants to match your profile with the perfect US visa that is right for you.
After you are informed by our group of consultants about which US visa options you are eligible to apply for, our seasoned experts can next walk you step-by-step through the application process. They can explain exactly what needs to be done during each stage of the procedure and answer your questions, so that your application and documents will be filed correctly with the relevant US government agencies. USA Visa Consultant guides you confidently through the entire process, to help you avoid the mistakes that people often make when they try to apply for a US visa on their own, which could also result in delays with the procedure. We provide you with excellent customer service during the process and have well-trained agents who speak a variety of major languages, including English, Spanish, French, Russian, Arabic, Turkish and Portuguese – among others. Our company also gives you flexible options for making secure payments for our professional services. These and the other beneficial services offered by USA Visa Consultant help to make relocation to the United States as smooth and affordable as possible for you and your family!
IMPORTANT NOTICE
Please note that USA Visa Consultant is not affiliated with any agency of the United States government. USA Visa Consultant is a private company that provides its clients with quality professional services that are not offered on the free US government website. Only the US government has the authority to approve and issue a visa to the USA and it may update the criteria and procedures at its sole discretion.